As reported by BBC News on the 2nd September 2018, link: HERE.
The Sunday Herald has published its final edition after 19 years.
The final 40-page souvenir edition hit the stands, prompting tributes from politicians, celebrities and other figures from Scottish public life.
Among those lamenting the paper's demise was actor Elaine C Smith, lawyer Aamer Anwar and the SNP's Angus Robertson.
The paper, which is owned by Newsquest, is being replaced with two titles – The Herald on Sunday and Sunday National.
The Sunday Herald became the first newspaper to publicly back a "Yes" vote in the Scottish independence referendum in 2014.
However, despite seeing a brief circulation boost, it went on to see its sales slump, with the latest figures showing an 18% drop in print sales compared with 2017.
'Political commentary'
Mr Anwar said it made him "incredibly sad" to see the paper go. He took to twitter to say the paper had made a real difference.
He wrote: "U made a real difference, so many without power or money would have been silenced or crushed had u not been there."
Former SNP deputy leader Angus Roberston wished all those involved with the paper good luck.
Writing a tribute in the paper's final edition, Elaine C Smith said the paper's political commentary had "kept her sane".
She added: "I feel sad that things are moving and that there is no more Sunday Herald, but I am pleased the National on Sunday is being printed and that will be the paper in my house from now on."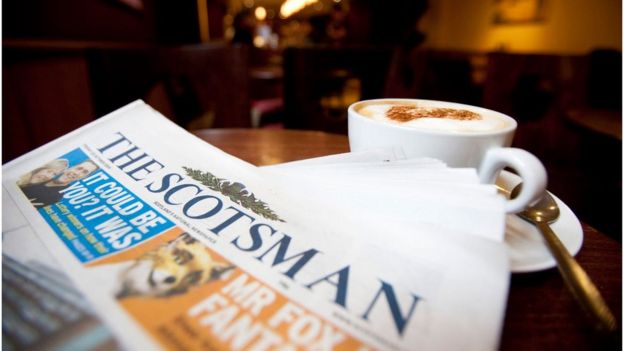 Latest newspaper figures show that The Scotsman saw a 20% drop in print circulation compared with last year.
It was the heaviest faller in the most recent figures from the Audit Bureau of Circulation – down to just 16,300.
Of those, more than 3,200 were bulk sales, given away free at hotels and airports.