As reported by BBC News on the 25th October 2018: LINK
Debenhams has posted record annual losses and said it will close up to 50 stores, putting 4,000 jobs at risk.
In the year to September, the department store group lost £491.5m, against profits of £59m the year before.
Debenhams, which has 166 branches, previously said it planned to close 10 stores.
Boss Sergio Bucher said the company was "taking tough decisions" on stores where financial performance was likely to deteriorate over time.
The retailer is not releasing a list of the stores at risk of closure.
Mr Bucher said the additional 40 stores earmarked for closure were "currently contributing positively" to the business, but added: "However, rolling forward current trends, we do not believe they will remain profitable in future years and therefore we intend to exit these stores over the next 3-5 years."
The BBC understands about 4,000 jobs could be affected by the changes, but Debenhams said it hoped there would be a "minimum" of compulsory redundancies and that some of the departures would be people who would have left the business anyway.
'Profitable core'
The chain was plunged into loss by exceptional write-downs of £512.4m, mainly to do with store and lease provisions,
However, Mr Bucher told the BBC's Today programme Debenhams was a profitable business. "As we said in September, we generated £160m of operating cash, we generated £33m in profit before tax.
"The loss is basically an accounting adjustment to allow us to deal with legacy issues. We're cleaning up our balance sheet to be fit for the future."
Debenhams has been undergoing a revamp aimed at reviving its fortunes, redesigning stores and introducing new "experiences" including beauty treatments and Prosecco bars.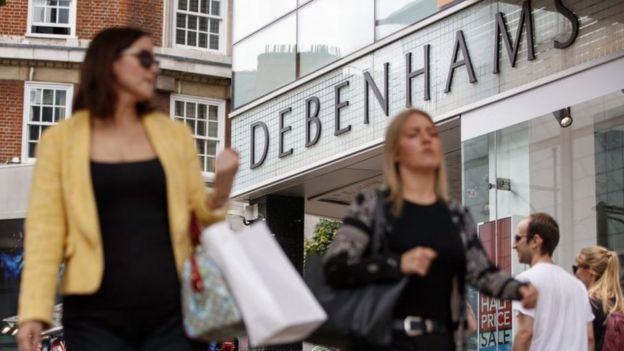 Mr Bucher said it had identified a "profitable core of up to 100 stores in flagship and vibrant markets" where it could see a positive return on future investment.
These stores account for more than 80% of the chain's profits.
Debenhams saw sales in UK stores fall by 6.3% over the year, amid what it described as a "volatile" market background. However, its online business grew by 10%..
The pressures on the UK High Street have seldom been out of the headlines this year.
Earlier this month rival department store chain House of Fraser was bought out of administration by Mike Ashley's Sports Direct earlier this month. And Marks and Spencer and Mothercare have both announced branch closures.
Richard Lim, chief executive of Retail Economics, said Debenhams was operating in the part of the market under the most intense amount of pressure.
"Put simply, department stores are incredibly expensive to run," he said. "The combination of too much space, inflexible leases, and spiraling operating costs are set against a backdrop an accelerating behavioral shift towards online and experiences. This is eroding their profitability and changes in the business need to occur at a pace if they are to survive."
At Hargreaves Lansdown's senior analyst Laith Khalaf said: "The Debenhams share price has lost four-fifths of its value in the last year, and no doubt some will be wondering if we are now near the bottom.
"Despite the dramatic drop, this is still a business in a state of transition, and while the upside could be considerable if Debenhams turns things around, there is still a risk of further losses, particularly given the fragile and dynamic consumer environment."